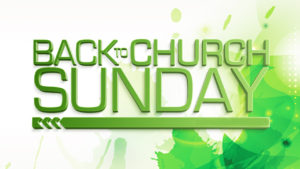 "I used to attend church regularly. . ."
Did you know that nearly 85% of those living around you used to attend church regularly somewhere? Hard to believe isn't it? Yet many of us have found that it's way too easy to get out of the habit of church attendance. There are multiple reasons for this but one thing we know. . .it is often harder to start again!!
We want to help make that transition back to church as easy as possible so on

October 1st at 10:30 am

we are celebrating "BACK TO CHURCH SUNDAY" at OcalaFirst. . .and you are invited!!
NO QUESTIONS. . .NO PRESSURE. . .NO CONDEMNATION. . .