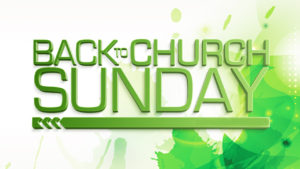 "I used to attend church regularly. . ."
Did you know that nearly 85% of those living around you used to attend church regularly somewhere? Hard to believe isn't it? Yet many of us have found that it's way too easy to get out of the habit of church attendance. There are multiple reasons for this but one thing we know. . .it is often harder to start again!!
We want to help make that transition back to church as easy as possible so on

October 1st at 10:30 am

we are celebrating "BACK TO CHURCH SUNDAY" at OcalaFirst. . .and you are invited!!
NO QUESTIONS. . .NO PRESSURE. . .NO CONDEMNATION. . .
Welcome to OcalaFirst
OcalaFirst is a dynamic church located in the heart of Ocala, Florida. We are definitely not the same old "church" you may be used to or have grown tired of. We are different! No "members only" club here. Anyone and everyone is invited to stop in and find out how God can change your life through the ministry of OcalaFirst's congregation and leadership.
Whether you have connected with us to investigate the truths about Jesus Christ, find information about our church, find directions or just browse you are welcome at OcalaFirst. Where everyone is part of the family.
And like families, we stay connected to each other through small group fellowship and discipleship.
Be sure to check out all of our ministry opportunities we have available or just stop by one Sunday for a visit. We're confident that you'll like what you see – not only in us, but what God will do in your life through this ministry.
OIKOS Focused Ministry
OIKOS = the people that God has placed within my relational influence.
WHAT DOES IT MEAN, AND HOW DOES IT WORK?
God's Word Changes Lives
One Person At A Time.
LISTEN TO OUR SERMONS & TEACHING
You Are God's Hands and Feet To The World.
Contact Us
We would love to hear from you!